Adoption Name: Annabelle AND Raylan.... bonded pair
Click on a photo for larger view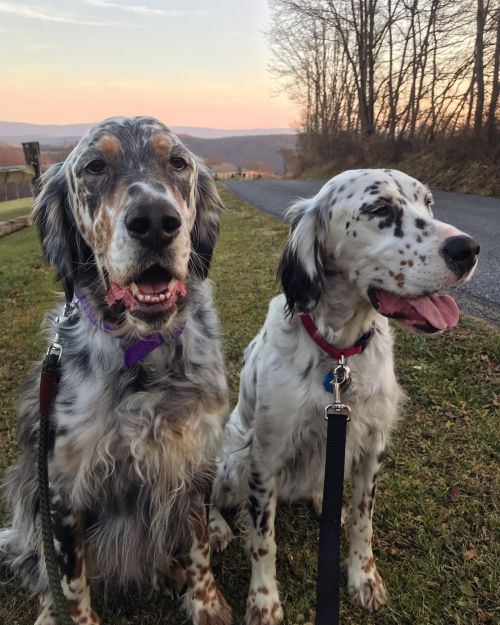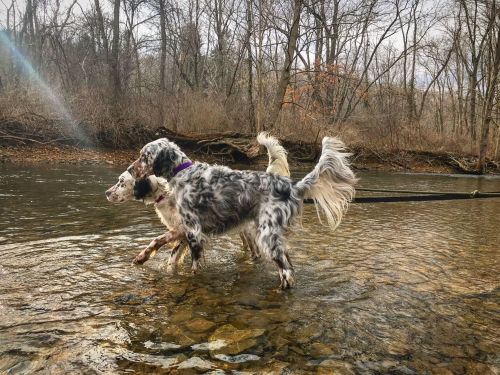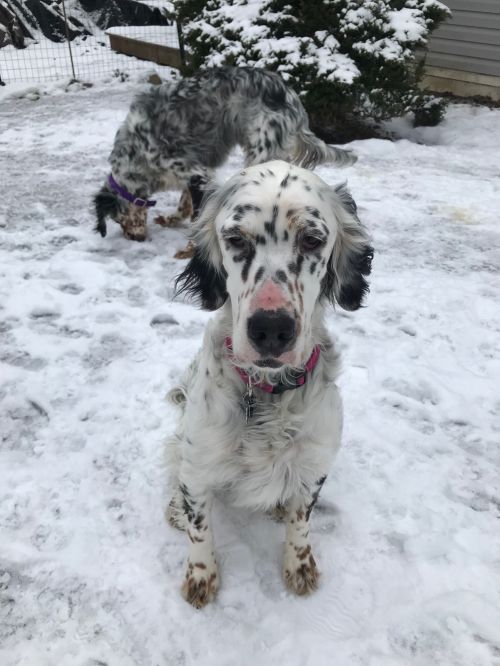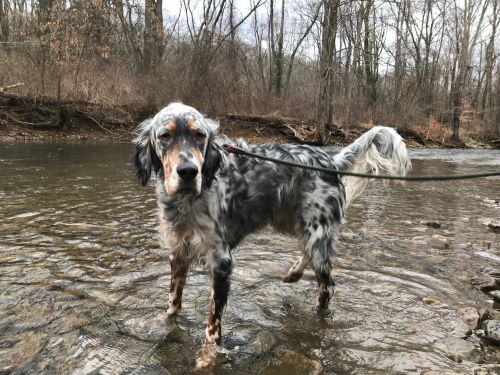 Breed: English Setter
Age: Adult
Sex: Female
Size: Large
Updated: 04/11/18
Description and Additional Information:
BONDED PAIR- Raylan..Male ..68 lbs- 3yrs... Annabelle...Female 48 lbs 2 yrs old Raylan... Hello my name is Raylan and I have been living with my sister Annabelle and my new foster parents for a few months now. I love my foster parents and I have two new roommates too! I get along very well with Nala the resident cat and we sometimes nap together. Dasher the resident dog is my same age, my sister and I love to chase him in the back yard. I also like when I see birds in the back yard, I always point them out to my foster parents. We play in the fenced in area all the time but I also like when we get to go on walks. I am very good on the leash and in the car. I sometimes think I am a small dog and like to lay with err on luckily my parents don't mind. They call me a Big Teddy Bear... When my foster parents have to leave for a few hours I go right in the cage when asked. I also sit and stay with hand signals, especially when they have treats. My favorite is catching ice cubes! Beef bones or antlers are great because I chew up toys or other treats so fast! It took me a few days to adjust to my new home but I never have any accidents now and only bark when I think someone is outside! I like getting brushed, I get along with everyone including my new cat and dog friends, everyone says I am very handsome. I would love to go to a home and get a lot of exercise and love. My DREAM home would be to go somewhere with my little sister Anna. We have never been separated and I get very nervous when she is not around. I would miss her very much. Anna... Hi! I am Anna and I am full of energy! Me and my brother just moved to Pennsylvania and we live with our new Foster Parents, their dog, and one cat. We all get along very well and love to play together. I like to bring my foster parents bones and toys as often as I can but sometimes I get so excited to see them I have small accidents. My favorite thing is to play in the back yard with my volley ball or chase the other dogs in the yard. I get really excited when I see birds and my parents always catch me pointing at them. I like to go on walks but am so excited I sometimes pull my foster parents with the leash. When we get done with the walks my favorite thing is to splash in the stream. I was very nervous when I first got here and would have some accidents in the house if I did not get to go outside enough. Or, sometimes because I was curious I would get into or onto things I should not have. I really did not like the cage very much so I'd whimper or bark. My foster parents say I am getting so much better at all of these things and! I really like to sleep with my foster parents. I know what cage, sit, stay, and down mean. I am very treat motivated... Ice cubes, turkey meatballs, bones, toys, anything really! I love my big brother so much, he plays with me, cleans my face, and I like to clean his ears. We do everything together! My dream home would be with a family that has a big yard or fence where I can run and go out all of the time. I hope Raylan could come too! If you are interested in adopting him or another OESR dog, you must complete the application process at www.oesr.org. We will not be able to answer your questions about this dog until you have completed the application process and are approved to adopt. All adoptive homes must have a fenced yard or other type of containment or boundaries for the dog. Vet and personal reference checks as well as a home visit will be conducted prior to final adoption approval for all OESR dogs. Adoption fees for the pair will be $650.00. They will not be separated....
Spayed / Neutered
Has Current Shots
House Trained
View Annabelle AND Raylan.... bonded pair's Petfinder Profile to view additional information
Videos of Annabelle AND Raylan.... bonded pair in action (if available):
No Videos are available
Apply Now to Adopt Annabelle AND Raylan.... bonded pair!