Adoption Name: Kevin Harris
Click on a photo for larger view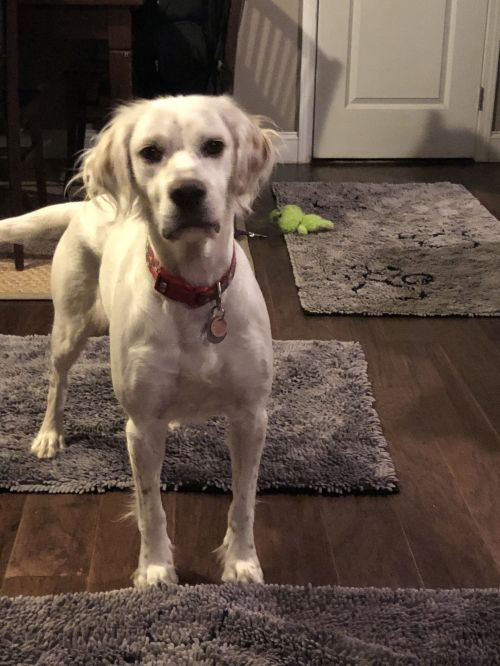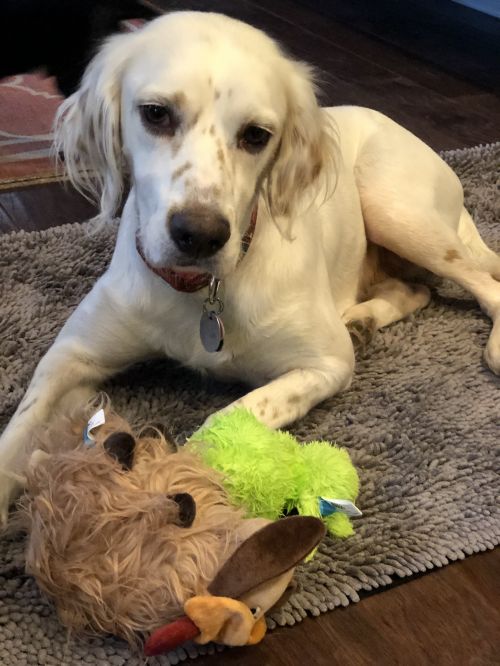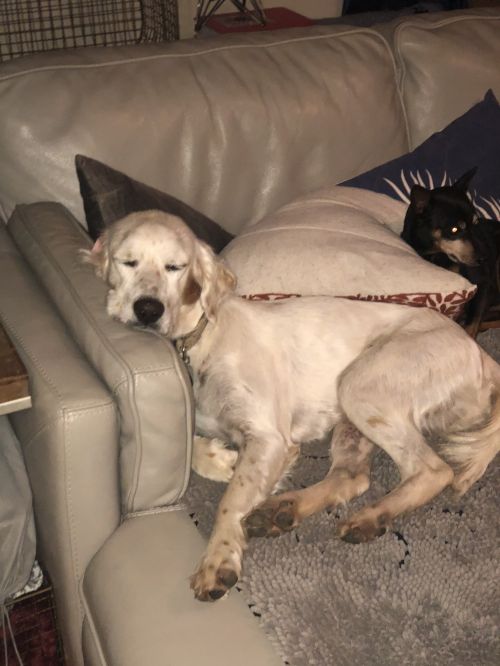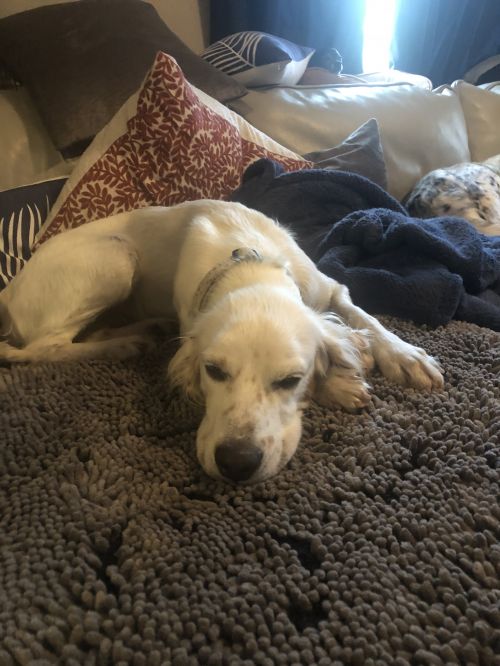 Breed: English Setter
Age: Adult
Sex: Male
Size: Medium
Updated: 03/19/19
Description and Additional Information:
Hi, I am Kevin Harris. I am about 2 years old and weigh 42 lbs. The first thing you should know about me is that my name is my identity, I answer to it and do not want it changed. I came to OESR as a stray from Georgia that had been hit by a car in February of 2018. I was at the shelter for 6 months before they contacted OESR. When I got to OESR, the veterinarian discovered that I had a ruptured cruciate ligament. I had to undergo a pretty tough and expensive surgery called a TPLO. Most dogs that have this surgery will need it done on their other knee at some point. Please talk to your vet about it before you consider adopting me as this is an expensive surgery and there is a really good chance I will need it again. My foster mom says I am the best foster she has ever had. I have never had an accident in the house. I LOVE to play with my toys and bounce around like a puppy. Running and playing in the back yard are my favorite things next to walks. I REALLY love walks. I'm getting better! I am a very sensitive setter and respond best to lots of positive reinforcement. A big fenced yard would be awesome! The only bad habit I have is that I try to bolt out the door when someone opens it and I get really excited when I think someone is getting ready to leave. Oh! I like to steal shoes and socks and other things and take them outside. I don't think that is bad, but foster mom says it's not the best thing for me to do. To be honest, I am an awesome dog. I have a ton of personality and am very smart. My foster mom says that I am funny and quirky. There isn't anything or anyone that I don't like. I might take some time getting used to and accepting a male dog that is bigger than me. I act tough when I meet them because I feel like I need to assert myself. Then, I end up getting along just fine. I live with 4 other male dogs of all sizes and 2 cats. If you are interested in adopting him or another OESR dog, you must complete the application process at www.oesr.org. We will not be able to answer your questions about this dog until you have completed the application process and are approved to adopt. Kevin Harris' adoptive home must have a fenced yard. Vet and personal reference checks as well as a home visit will be conducted prior to final adoption approval for all OESR dogs. Adoption fees range from 250.00 to 395.00
Spayed / Neutered
Has Current Shots
House Trained
View Kevin Harris's Petfinder Profile to view additional information
Videos of Kevin Harris in action (if available):
No Videos are available
Apply Now to Adopt Kevin Harris!