Winston
Winston is an older fellow who needs a stable laid back home. He would thrive in an environment with a stay at home human who would enjoy snuggles on the couch, gentle walks, and watching a favorite movie. He's just now learning that perhaps a human is ok and toys are actually fun!
Winston was a stray, who came in with a herniated disk and very skinny, With a little TLC, and repair to the disk, he is now able to run, and is learning what love is . Toys are new to him, but he is a good student, Loud noises can startle him, and he might let out a bark to let them know, " he heard that".! He likely will need some dental work and the vet said it would be okay after weight gain and healing, have been achieved.
---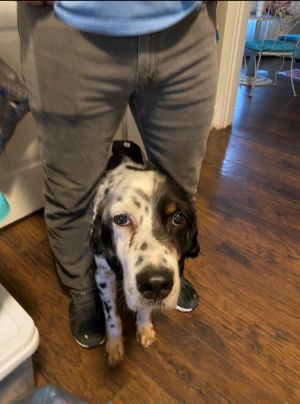 English Setter
Housebroken
Up-to-date with routine shots
Winston is a mellow senior fellow: 10 years old Up to date on shots: Yes Heartworm Flea/Tick: Yes Leash trained:...
Senior, Male, Medium